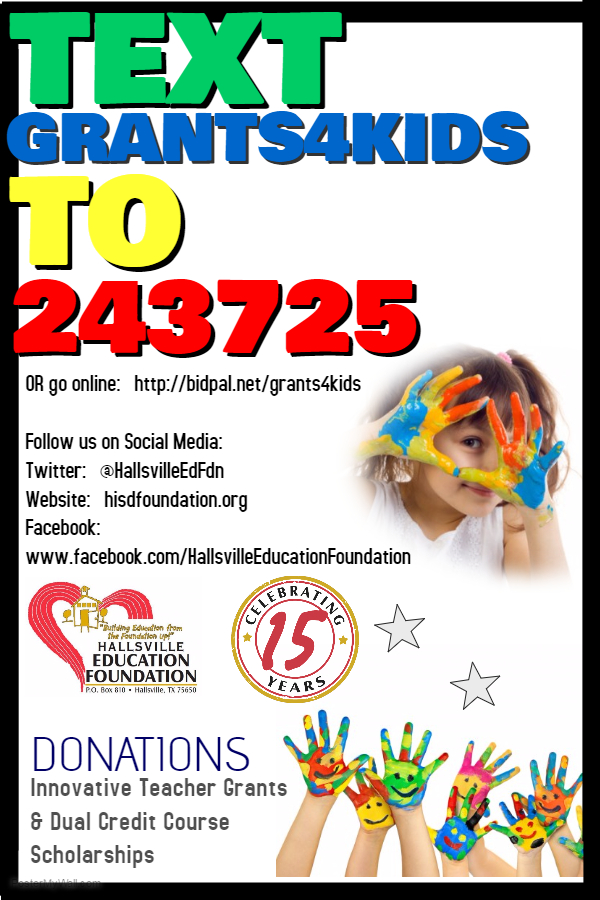 This Is an Article.
Double-click the text box and begin editing. Use the text editor to customize your text. It's that easy!
Thank you for your support!
You make what we do possible! Because of the generous support of all of our donors, the Hallsville Education Foundation has contributed more than $450,000 to Hallsville teachers over the past 15 years. We ask you to join us in helping us reach our 2016-2017 Annual Fund Drive goal of $100,000.
Teacher Grants & Student Scholarships
The Foundation is dedicated to securing the resources necessary to teach and motivate our students. Year after year our teachers ask for the most creative tools to use in their classrooms to enrich the learning process. Because of your generous financial gifts, we can say YES to many of them! Lego bricks to learn science, technology, engineering and math in a way that will truly set in motion a love for science through hands-on learning, Contrabase Resonator Bars for students at East Elementary to experience the beat in a whole new way, ukuleles at Hallsville Intermediate, chromebooks for Hallsville Junior High, sky panels, Cubelets robotics, innovative seating, standing desks, and iPads at various campuses. Scholarships totaling $49,000 have also been granted to 178 juniors and seniors taking culinary arts, Ag mechanics, cosmetology, and general education college courses for easing the costly burden for parents and paving the road for the kids to attend college, since fall 2010.
Investing in Our Future
By contributing to the Hallsville Education Foundation, you have the opportunity to invest in the future of the children right here in Hallsville , Texas. Your charitable donation and the dedicated members of the Foundation will ensure the needs of our teachers and students are met. Simply, text GRANTS4KIDS to 243725 or click this link HERE. It's that easy! If you have questions regarding this year's campaign, please do not hesitate to call 903-668-5994. Thank you in advance for your consideration of this important gift.