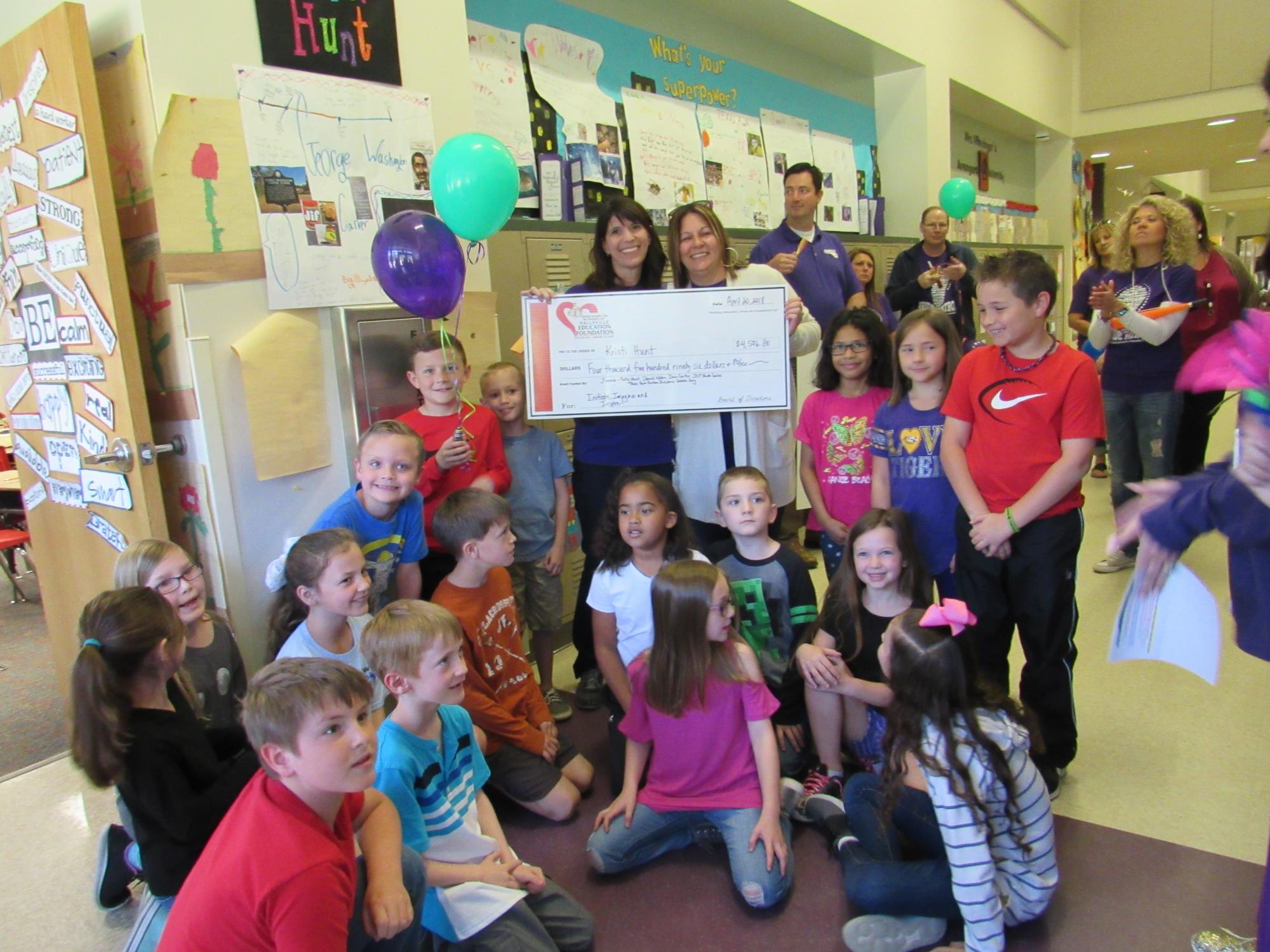 Every dollar donated through the Employee Giving Campaign is directed to the classroom.
Through grant awards, teachers can secure tools they need to make learning come alive for students.
The Hallsville Education Foundation provides a powerful means to support and sustain the district's vision to provide all of its students with a remarkable education.
Throughout the month-long event, donors will be randomly chosen to receive a $5 or $10 gift card to various local businesses.
NEW Early Bird Prize #1 - Two lucky winners will receive 2 years FREE oil changes and tire rotations from Patterson Chrysler Dodge Jeep Ram of Marshall.
New Early Bird Prize #2 - The first two weeks of the campaign, employees who donate $25 or more per pay period (minimum of 10 pay periods) will be in a drawing to receive two tickets to #GRGL2019.
Each employee who donates $100 or more will become part of the "Cornerstone Club" and will receive an L-shaped plaque that fits on their classroom/office door frame.
Each employee making a donation of $100 or more will be in a drawing for $100 ($1,000 will be awarded).
The campus that reaches 100% participation first AND exceeds their dollar percentage given last year, will receive a SURPRISE treat for all employees. Maybe even technology delivered to the campus! How cool is that?
Campuses/Departments that receive 100% participation will get to wear "Jeans for the Week" the week before Thanksgiving Break!
To initiate a donation through your paycheck, complete the online form below.
The donation will be deducted from your paycheck for 10 months, beginning October 20th.
To make a one-time donation via credit or debit card,
please use the one-time gift donation button below.
For a printable Employee Giving Campaign Payroll Deduction Pledge Form, click here.
Investing in YOUR Foundation!
The Hallsville Education Foundation asks employees to consider supporting the charity that supports them by participating in "Investing in YOUR Foundation" campaign. High percentage of employees supporting this campaign demonstrates to our community and business leaders that "investing in HISD" is worth it because our employees truly have a "do all that it takes" mentality when going the extra mile for students.
In addition to helping students, employees can earn awards and gifts for themselves!
@HallsvilleEdFdn Day - 1st Monday of Each Month
It was a great HIT last year and thanks to Mr. Collum and HISD Administration, again this year... Employees who donate $100 or more will receive a tshirt to wear the 1st Monday of each month on @HallsvilleEdFdn Day.