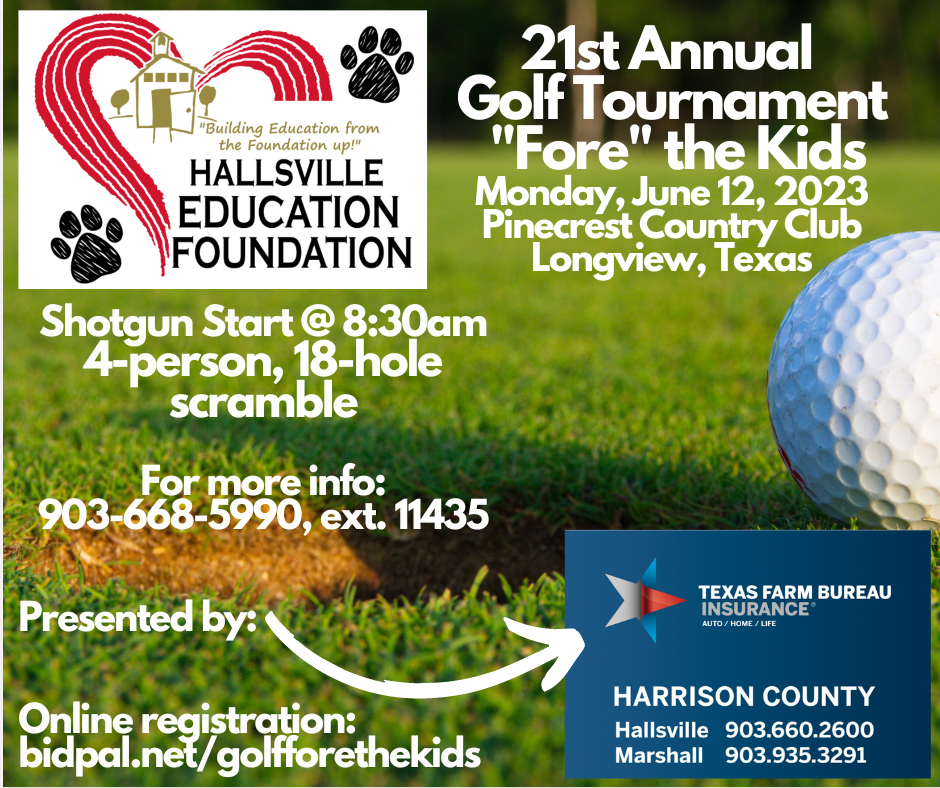 Thank You, Sponsors!
The weather held off and we had another great tournament this year with 22 teams taking to the course @ Pinecrest Country Club. HUGE thank you to our sponsors this year!


Title Sponsor: Texas Farm Bureau Insurance who cooked up a delicious lunch of pork sliders, boudin casserole, and more!
Green Jacket Sponsors:
- Matt Folmar - Rollo Insurance Group, Inc.
- Jeremy Cox - Bobcat Gutters
- VeraBank
- VanDusen Timber
- Lone Star Truck Group
- Gregg Greer, Justice of the Peace, Pct 3
Hole In One Sponsor: Sherwood Financial
Putting Green Sponsor: Whataburger
Practice Green Sponsor: Bubba's 33
Hospitality Drinks/Snacks: Roofmasters
Hole Sponsors: JBT Law Firm, Courtney Thorson, LSSP, PLLC, Constable Jim Weatherall, Hallsville Hardware, Main Street Coffee House, Ronny Odom-Peters Cheverolet, Austin Law Firm, Ben & Rhonda House-Hallsville Alumni & 6th Grade Teacher, 92.3 The Depot, Proud Supporters - Mike & Beth Godsey
Tournament Winners:
1st Flight
1st Place: Scott Mitchell, Matt Whatley, Chris Whatley, Troy Crafton
2nd Place: Terry Wilbanks, Jeremy Honea, Ronnie Strong, Brent Ingram
3rd Place: Jeremy Cox, Devin Jackson, Ben Echols, Jordan Howell

2nd Flight:
1st Place:Charlie Downs, Craig Blankenship, Daryl Lighthall, Dylan Bailey
2nd Place: Graham VanDusen, Hal VanDusen, Gary VanDusen, Jan Vanderwal
3rd Place: Austin Blakeley, Emma French, Jenna Ogletree, Carly Ogletree

Closest to the Pin: Payton McGarvey
Longest Drive: Carly Ogletree
Longest Putt: Graham VanDusen

Thank you, Graham VanDusen, Smart Storage (Austin Blakeley team), and Van Dusen Team for donating your winnings back #forethekids. That was very thoughtful and generous of you. Can't go without giving a shout out to Sean Hanson and his golf staff, Education Foundation President, Jackie VanDusen and Education Foundation Treasurer, Ryan Hamilton for their help in putting on a great tournament #forethekids.